Part 1. The obligatory history lesson:
It happened to the record industry first. While popular music had long been available on radio, it could be argued that a true music industry as we know it today didn't arise until the 50's and 60's when distributable media and players became widely available. To summarize – you bought your music on record, then on 8-track, then on cassette, and then on CD once again. Sounds very much like a 'cartel', or "association of suppliers with the purpose of maintaining prices at a high level and restricting competition". Record companies (not artists generally) held the content and the means of distributing it to us the passive consumer.
But that's where technology turned. CD drives in computers plus early sharing software like Napster meant that instead of getting good at mashing the pause button on your stereo so recording to cassette stopped before the adds kicked in, you could rip a whole CD to MP3 in minutes and upload it for anyone who was also connected to the net. You could also bypass the record stores entirely by downloading songs, for free. It meant you didn't have to buy your music a fourth time in some other format – you now controlled the file. No it wasn't legal, but it was what the people wanted.
Fast forward to 2013 and we can choose to buy tracks one at time instead of ten at a time. NOW we have Pandora, and Spotify and Rdio et al. Now Music gets pushed to me. Now I tap a thumbs up button and more great tunes keep rolling in, for free if I put up with the Pandora Ads like four times an hour.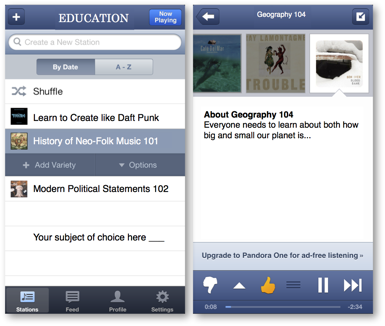 Imagine if the streaming music app Pandora was the education system. How would that change things?
The 'cartel' has been broken, or at least radically forced to change its ways. Dropping DRM restrictions on music files for instance means we the customer can choose when, where and how we want to store and play our music. Funny then that last year was the first time in a decade that the music industry saw an uptick in profits – after finally signing licenses for online services that are very similar to Napster.
Now get ready to lose your job – so says Jon Evans in a recent article at TechCrunch. His argument is that nearly all industries are facing a similar shakeup as the digital revolution enters a new stage and the stuff of the world moves into silicon. He quotes Chris Dixon's remarkable idea that just as in the previous four technological revolutions, we are at the stage where new tech is replacing traditional jobs before new digital industries that will appear have had a chance to create new ones.
For example, as information has moved online, print newspapers are failing faster than they can hit on a successful digital strategy. Indeed, Wired reported nearly a year ago that some sports journalism jobs have already been taken by software that in part takes advantage of the proliferation of easily accessible data.
Part 2. The MOOC did it: What it all means for Education
"Education is the cartel that technology is going to break next" Heppell, 2011
"Higher education is just on the edge of the crevasse … I think even five years from now these enterprises are going to be in real trouble" Clay Christensen, 2013
So what about the education system? …
TO READ THE FULL ARTICLE, head to EduTechDebate and join the conversation.